Will Corey Kluber Turn It Around?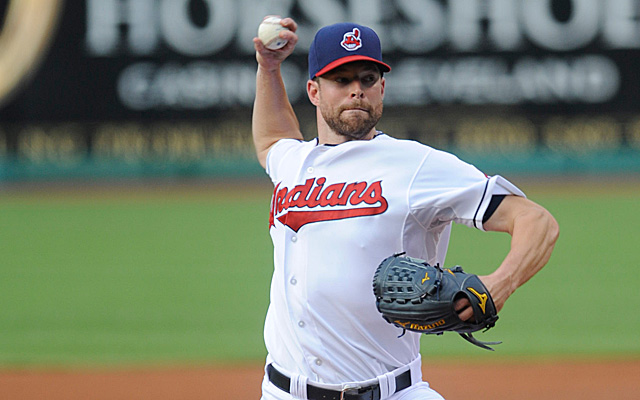 Indians fans and fantasy owners expected big things from Kluber this season. The Indians ace was coming off the best season of his career, possessing an 18-9 record with a 2.44 ERA, 2.35 FIP, and a 1.095 WHIP in route to a Cy Young Award.  However, with lofty expectations coming off his Cy Young Award Kluber has failed to live up to the billing so far. In his first five starts, Kluber has tallied a 0-5 record along with a 5.04 ERA and 1.39 WHIP. This concerning start has had Indians fans and fantasy owners asking themselves two questions. First, what is going on? Second, Can he turned it around?
There are many attributable factors to Kluber's early season struggles, many of which are out of his control. One of these factors is the absence of Yan Gomes. Gomes, Kluber's battery mate, has played in only 5 games this entire season due to a MCL sprain on his right knee. Therefore, Kluber had to work with Roberto Perez, who he just did not have the same comfortability and familiarity with. Another external factor that might have some culpability in Kluber's early struggles has to do with the Indians' defense. Coming off a year where they lead the league in errors with 116, the Indians had nowhere to go but up. In this short season so far, they have shown improvements, as they are only 15th in total errors with 21. However, these numbers can be misleading. The Indians defense has still be very bad this year, with a -9.7 UZR and -64.7 in Def, good for second to last in both categories according to FanGraphs.
Of course, one could refute these arguments saying things like "The rest of the rotation has missed Gomes and pitched in front of a brutal defense, yet they have not done so poorly. The blame lies solely on Kluber." I would not disagree with such am argument, as those are all true statements. This chart even proves the point of this argument.
| | | |
| --- | --- | --- |
| | 2014 (ERA/FIP) | 2015 (ERA/FIP) |
| Trevor Bauer | 4.18/4.01 | 4.19/3.78 |
| Danny Salazar | 4.25/3.52 | 3.27/2.93 |
Despite playing with the same catcher and same defense, it has not taken a toll on Bauer and Salazar's performance so far. In fact, both pitchers have improved while Kluber has seemingly taken a step back. However, the difference between Kluber and Salazar/Bauer lies in their respective BABIPs. While Salazar possesses a .284 BABIP and Bauer a .304 BABIP, Kluber's is a very high .361. Quite simply, more balls are dropping in for hits than usual. Fortunately for Kluber, this trend will very likely stop, and therefore less balls will be dropping as hits and Kluber's numbers across the board will improve.
Besides BABIP, there are two more signs of hope for Kluber's turnaround. One of these signs is that he is causing hitters the swing and miss more at a career high rate. Second, is that he is causing more ground ball outs than ever before, and is also currently holding the best K/BB% of his career so far. These signs are a huge relief to Indians fans as well as fantasy owners because it shows that his stuff is still elite. In fact, his stuff is even better. Thanks to his BABIP, swinging strike rate, ground ball to fly ball ratio, and strike out to walk percentage, Kluber should rebound in a big way. The rebound has already started, with an 18 strike out and 1 hit performance that may have been the best performance by any pitcher this season. Hopefully this start will give him the confidence he needs to get rolling and get back to Cy Young form.